Move5000 Terminal Setup & Connectivity Guide
Please note this article applies to terminals with Global Payments
Plugging in the Device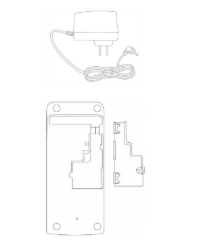 Connect an ethernet cable to the ETH port located on the back
If using dial connection connect phone line to the symbol on the Magic Box

Connect the power cable to the inside of the base and reattach cover, Plug Power cable into source.
Connecting your Device
Once the terminal loads to the "Transaction Buttons" we then need to Select Admin or Press # button
Press 3 or "Setup menu", Admin Name "1" & Enter, Admin Password (contact Support for password) & Enter
Press 2 or "Communications"
Press 5 or "Bluetooth"
Press 1 or "New Base" & Dock terminal on base, Press Cancel to go back to the main menu.

Terminal will now display the connectivity indicator which will be green, If not green please contact support.

Completing a Test Transaction
Press 0, "Sale"
Enter $0.01, Enter
Enter 1 if prompted for Invoice# or Server ID
Insert or Tap Card
Terminal should display "Approved" If not please contact support.
Press 3, "Void"
Enter User ID 1, Enter
Enter Password (contact Support for password), Enter
Select All, Find transaction from above.
Select sale, Insert card to perform void sale.
Congratulations! You are ready to accept payments!
Please call Paystone Support for any assistance at 1-888-900-9192