VX820 DUET TERMINAL SETUP & CONNECTIVITY GUIDE
Please note this article applies to terminals with Global Payments
Plugging in the Device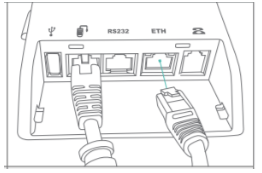 Connect an ethernet cable to the ETH port located on the base of the terminal.
If using dial connection connect phone line to the symbol on the back of the base.

Connect the power cable to the terminal base(side of base) and the other side to a surge protector or power box.
Connecting your Device
Once the terminal loads to the Payments screen, follow the steps below to set up your IP connection.
From the Global Payments Screen,
Press the

(asterisk) Button
Press the number 3, The CommServer screen appears
Press the

(Settings) icon, i.e. the first icon from the right
Select IP. The IP Config menu appears
On the IP Config menu, at the "IP Settings" prompt, select Edit.
Select DHCP or STATIC
(Note: Contact your Internet Service Provider (ISP) to determine the addresses for these parameters if choosing static)
Select Exit, then select Yes to save changes.
CommServer repairs the connection, and when successful, prompts you to press any key, press OK
Press the green OK key to return to the Ethernet Cfg menu, then press the

(asterisk) key to return to the applications menu, select "Softpay" on the screen
Completing a Test Transaction
Performing a Key Request on your device
Press the menu button , (Arrow)
Find "Test" in the Menu options
Select Test
Select Handshake
The Terminal should display an "Approved" Message on the screen.
Press the Cancel button back to the main payments screen
Congratulations! You are ready to accept payments!
Please call Paystone Support for any assistance at 1-888-900-9192